If you have ever gone to a public place that requires waiting in a queue —you've certainly come across someone playing Candy Crush.
The process of enjoying and absorbing this wildly famous game is as sweet as chewing on the real candies, But have you ever thought about how this matching and crushing candy game earns 3 Million$ on a daily basis!!
So, don't worry guys here in this post we will cover how Candy Crush which was built on the copied concept of Bejeweled made Billions.
Index:
Origin
Candy Crush was the product of the company king.com which was founded in 2003 by Riccardo Zacconi, best known as the CEO of King.
Initial ideas of Candy Crush were proposed by King's chief creative officer, Sebastian Knutsson.
Historically King.com doesn't have any success across the mobile platform.
In April 2011, King released Miner speed its first cross-platform game across Facebook and mobile.
Later in 2011, Candy Crush was selected as King's next Facebook game, based on the popularity of the portal version of Candy Crush, by 2012 it becomes one of the five most popular games.
Later other versions for iOS, Android, Windows Phone, and Windows 10 followed Facebook.
The game quickly gained popularity, gaining more than 4 million players within a few weeks of release.
Watch Candy Crush Story on Bizzbucket Youtube Channel.
Rise: 
Soon after the release in 2011,
In May 2013, King(the maker of candy crush) was ranked third in the number of downloads on the App Store. It was fourth on Google Play and King was in the top 10 in revenue for the month in both google play and App Store.
Amazingly King accomplished that with only three games in the App Store and two for Android.
In comparison, Electronic Arts have 829 apps in the App Store and 121 on Google Play, and Angry Birds maker Rovio has 30 apps for the iPhone/iPad and 15 for Android.
By 2014, the game had over 245 million active players each month and it was dropped to 166 million by 2016. It again rose back to 293 million active monthly players by November 2017.
Five years after its release on mobile, the Candy Crush Saga series has received over 2.73 billion downloads.
Revenue:
Initially, the advertisement was the major source of revenue for candy crush, But in 2013 king removed the advertisement, and solely has earned money from the game in the form of in-app purchases.
Only a small percentage of the player base has purchased in-game items, up to around 4%, but this has led to millions of dollars in monthly revenue for King.
In 2014, Candy Crush Saga players spent over $1.33 billion on in-app purchases.
This is a decline from the previous year since in the second half of 2013 players spent over $1.04 billion.
By 2015, the monthly revenue was estimated at $120 million, but with declining players purchasing in-game items, down to 2% by 2016, that revenue has dropped to just over $53 million per month.
Again, by the end of October 2018, the monthly revenue rose to $128 million.
It remains one of the top gross-revenue earnings apps for mobile in the four years leading up to 2017.
Also, By the end of July 2018, the total revenue earned by this game stood at $3.91 billion.
In 2020, these are the player spending in the USA.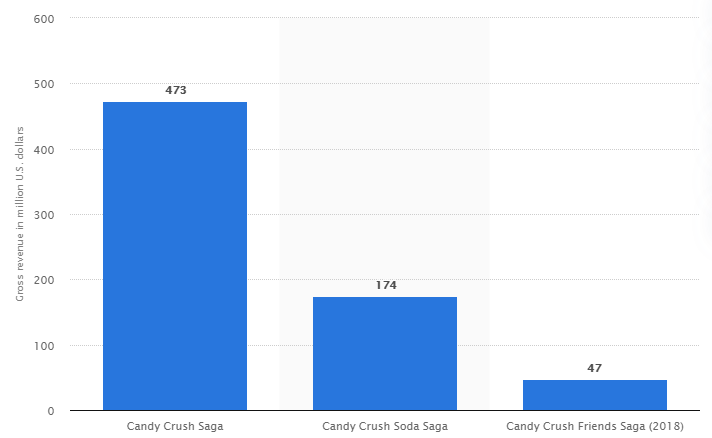 Acquisition:
 In 2014 King.com filed IPO at the valuation of $7.1 billion and later in February 2016 Activision Blizzard acquired Candy Crush parent company King.com for a $5.9 billion deal.
Candy Crush games series:
After the success of Candy Crush Saga, several other games were added to the series like:
Introduced Candy Crush Soda Saga, by adding additional candy tile types, soda-filling levels that cause candy tiles to float instead of sink, and other puzzle objectives.
Candy Crush Jelly Saga, Expanding on Candy Crush Saga and Candy Crush Soda Saga, with many levels requiring players to spread jelly across the game board, and adding boss battles with a computer opponent.
Candy Crush Friends Saga, A sequel in the Candy Crush Saga series.
Interesting facts:
One interesting fact to note that Candy crush is very famous and loved by women about 58% of the total candy crush playing population are females.
Candy crush when started in 2013 begin with a total of 65 levels and today they have crossed more than 3k levels and adding up.
One amazing fact to note is that about 46% Percentage of Candy Crush players are GenX or generation X which means people who were born in the period of 1961 – 1981. As games similar to candy crush was very famous for this generation at their young age, this was also one of the major reason for the success of candy crush.
As of January 2021, there are 8630 levels within 567 episodes, also each Wednesday about 50 levels are added.
Do tell us what you think!
Did we miss something? Come on! Tell us what you think of our article on " Rise Of Candy Crush" in the comment section.
Also, do check useful Startup Resources and Tools below(👇) and do join our newsletter for free for more interesting Business case studies, Startup knowledge, and Startup founders podcast delivered to your inbox every Sunday morning.
Do follow us:
Related Articles:
Who is the owner of Candy Crush?
Candy Crush was the product of the company king.com which was founded in 2003 by Riccardo Zacconi, best known as the CEO of King. Later in 2016 King was acquired by Activision Blizzard for a $5.9 billion deal.
How many levels are there in Candy Crush Saga?
As of January 2021, there are 8630 levels within 567 episodes, also each Wednesday about 50 levels are added.