Elephant Pants known as Shalwars as in Persian/Turkish is prominent clothing worn by tourists and locals in parts of Northern Thailand.
It is baggy, comfortable trousers with a print of elephants on them. Elephant Pants are also referred to as Hippie Pants or Harem pants.
This type of clothing was first seen worn by women of eastern parts of the world such as in the Middle East, Africa, or Turkey.
But now it is worn by people of both sexes as you might have seen Justin Bieber wear these pants every now and then.
The company was started in 2014; two college friends and residents of Brooklyn, New York Nathan Coleman and James Brooks discovered this product on one of their trips to Thailand in the year 2013.
Elephant Pants at a glance:
| | |
| --- | --- |
| Idea | Baggy, comfortable trousers with a print of elephants. |
| Founders | Nathan Coleman and James Brooks |
| Asked For | Asked For $500,000 for 10% at a $ 5 million valuation on Shark Tank. |
| Accepted Deal | Received $500,000 for 17.5% |
| Sharks | Daymond John |
| Business status | In Business |
| Episode No. | Season 8, Episode 18 |
| Buy on Amazon | Buy Now! |
Index:
Founders Story:
Attracted to the style, Nathan made a purchase of a few of these pants for himself and his friends, the upbeat response from everyone due to the immense comfort and unique Thai print made him come up with the idea of actually selling these pants in the market.
The duo managed to gain a lump sum of $8,462 through a Kickstarter campaign which helped them to initially bring their idea to reality.
Their product was a one-size pant that fits all, made out of diverse colored cotton fabrics with vibrant elephant design prints which were marked at a price of $24.95 each, the making of these pants cost them around $6 each.
They at first started with 6 styles of pants and with the eventual growth expanded their range to yoga pants, shorts, kimonos, and a few more.
Their products found a place in many yoga studios and various clothing boutiques across the nation.
They have a talented production team at their factory based in Chiang Mai, Thailand, they value their team and provide them with great working conditions, and proper healthcare, and are paid double the standard wages to keep their content and make their living easy.
Their idea of doing business was not just limited to making money but also to contributing to a virtuous cause.
They claim that The Elephant Pants are comfortable with a cause; they gave the simple motto "Save elephants. Feel good." 10% of their net profit is dedicated to saving elephants and is donated to various elephant conservation organizations.
To date, they have donated more than $150,000 to these organizations in an attempt to save the lives of elephants.
The main categories for which they donate are anti-poaching and security of elephants, habitat protection and their conservation, finding a cure and preventing human-elephant conflicts.
How was the Elephant Pants Shark Tank Pitch?
James Brooks and Nathan Coleman went to The Shark Tank TV Show in Season 8, Episode 18 which was aired on the ABC channel on 24 February 2017.
Both of them walked into the show with an elephant wearing printed pants. They tell the sharks about their company's vision, their product and also hand them their product to check the quality, prints, and design. There were five sharks present at the show namely Robert, Lori, Mark, Daymond, and Kevin.
Mark and Robert were the first ones to be out of the deal. Kevin and Lori decided to join hands to together contribute to investment.
Daymond was firm and said he didn't need anyone to be his partner. At last, Kevin and Lori were also out of the game and Daymond went on making a deal with Nathan and James Brooks at $500,000 for 17.5%.
Products offered by Elephant Pants:
The Elephant Pants company offers a variety of products under elephant pants for both men and women. As per their official website, they offer –
Harem Pants
Men Harem Pants
Plus Size Harem Pants
Shorts
Kimonos
All these come in various colors and beautiful elephant patterns and prints.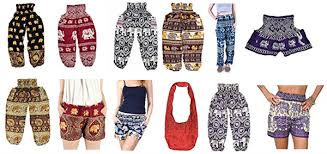 What are Elephant pants worth?
The Elephant Pants has quite an unquestionable growth even with such a simple product line. Their pitch in the Shark Tank even left the Sharks astonished when told about generating a huge amount of $7 million in sales within the initial 2 years of the company.
The making of these pants roughly costs the owners around $6 per pair and they sell them for $24 each, almost 4 times the cost!
They started in 2014 and have managed to sell around 400,000 pants pairs. The integration of their business with a social cause and the perfect marketing for their product helped them become popular and liked by many.
The input cost is way less than the output generated through sales, even after paying their workers and employees they must be left with enough to keep the company running smoothly. In addition to their product line at different prices, the engagement of customers has increased resulting in increased profitability of the company. 
Since they have sold around 400,000 pants till now they would have generated a profit of approx $7,200,000. They have pledged to donate 10% of their profit to elephant conservation organizations.
So their donation would sum up nearly to 720,000 till now. At the time of the shark tank appearance, Elephant pants were valued at around $2.9 million.
What Happened to Elephant Pants After Shark Tank?
After their appearance on the show Shark Tank, they managed to garner an amount of $500k partnering with Daymond which eventually helped them in their marketing, expanding, and diversifying their apparel range beyond just harems.
Their clothing brand has grown a lot bigger with this investment; their target is still focused on women of age 18 to 24 but the addition to the range provides a wider choice to the buyer now.
They even introduced a set of jewelry and accessories in the shape of elephants, an extra range for toddlers and children was also included.
There is still no prominent retail store dealing exclusively in their line of products but these can be spotted in a few stores in the US mainly on the West Coast and a few in the mid-west.
They have also come up with an additional donation of $30,000 for their mission to save elephants after their Shark tank deal. 
In September 2023, we received an email from the CEO of Elephant Pants regarding the update:
Greetings, Nathan here

I'm the CEO of The Elephant Pants Clothing brand.

I trust you well. I'm reaching out because I came across a blog on your website regarding our company. We appreciate you writing this blog about our company.

https://bizzbucket.co/elephant-pants-shark-tank/

We just wanted to let you know and ask if you would kindly add our website link to the blog. We have changed our domain name due to some unforeseen circumstances.

New link   https://www.thelephantpants.com

Thank you so much for your time and consideration. I hope we can also work together in the future and be of service to you. Do let me know if you have any questions I would be happy to answer.

Best, Nathan C
Competitor of Elephant Pants:
The Elephant Pant is a clothing brand selling Bohemian-themed apparel online. Their line of products might be different in the state but there is huge competition for them, there are many sellers selling these bohemian pattern harem pants on various sites.
As it is originated from Thailand it is obvious that the Thai market is filled with these pants at very economical prices.
Apart from the same category business, the other companies selling yoga pants, athletics wear and other loungewear will be considered as its competitors as well. A few of the bohemian brands serving as competitors are:
Cleobella:
It is one of the bohemian brands, this one bringing along some ethical values as well, they bring to the customers handmade apparel with an objective of uplifting the tradition as well as the culture of the artisans making them.
They have a well-structured site offering customers a wide range of beautiful dresses for women, all hand-printed by artisans around the globe.
Their designs are handcrafted in Bali and India where the craftsmen are paid fair wages. It was founded in 2008 and is currently running its two outlets in California with around 11-50 employees.
This brand offers a wider range of products as compared to The Elephant pants and all of them are handmade, but it also charges prices almost double that The Elephant pants and it is also restricted to women's apparel only.
Free People:
It has been a one-stop destination for all bohemian apparel, opened in the 1970s the name represented the young people who bought clothes from there.
It represents courage, femininity, and spirit, with 4 showrooms in New York, London, Chicago, and Los Angeles their lines are sold in over 1400 stores worldwide.
They opened their first boutique in the US in 2002 and now have multiple boutiques across the US and Canada. They even have launched various websites for different countries of business.
This is a huge brand in comparison to The Elephant Pants and is old as well which gives it a lot of brand worth and customer loyalty, they even have boutiques and showrooms whereas TEP hasn't come up with a retail store yet.
Another very tough competition that this brand could face is through the bohemian harem pants sold on Amazon, they are very readily available by various merchants at very reasonable prices.
Though the company faces tough competition in the online, as well as the offline market, its core ethics, and perfect marketing blend, have made them surf through the tides.
Do Share Your Thoughts:
Do tell us all your thoughts in the comments section below, we look forward to reading all the comments in the section below.
Also, check the useful Startup Resources and Tools below, and do join our newsletter 📰 for free for more interesting Business Case Studies 💰, Startup knowledge 🚀, and Startup founders podcast 🎙️ delivered to your inbox every Sunday morning.
Related Articles:
FAQs:
What is Elephant Pants?
Elephant Pants known as Shalwars as in Persian/Turkish is prominent clothing worn by tourists and locals in parts of Northern Thailand. It is baggy, comfortable trousers with a print of elephants on them. Elephant Pants are also referred to as Hippie Pants or Harem pants.
Who founded Elephant Pants?
Elephant Pants was started in 2014; two college friends and residents of Brooklyn, New York Nathan Coleman and James Brooks discovered this product on one of their trips to Thailand in the year 2013.